Here is what I'm trying to do:
I want to create a custom gizmo on a utility layer that shows a GUI texture menu overlaying slightly to the upper right of any mesh I select to highlight. The purpose of this is to show properties of the mesh I pointed at and potentially offer menu actions such as deleting the mesh or parenting it to another mesh.
So far what I have tried is creating a plane and then copying the position of the selected mesh into the plane. This works okay, but because I'm also using the gizmo manager for position/translation and bounding box, my menu is getting in the way of those controls. Also if the mesh I pointed at is far away from the camera, the GUI menu is too small to read.
So what I tried next is placing the gui menu closer to the camera so I can read the text. I subtracted the mesh position from the camera position and that gave me a direction vector. Then I normalized that vector and then calculated a new vector3 position based on adding that unit vector with some scale to the camera position and copying that vector3 to the gizmo plane.
Here is a video of the result.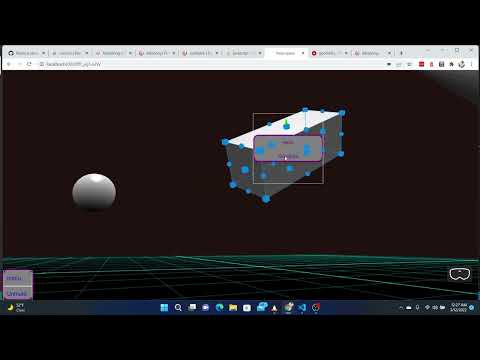 Now the menu is about the right readable size any time I click on a mesh, however it's blocking the transform and bounding box gizmo because the menu texture is still "in the center" if you project a ray from the camera to the mesh position.
What I would like is to offset the menu to the "upper right" of a mesh similar to how 2D gui's sometimes have an 'X' to delete icon in the upper right. But I don't know how to specify this coordinate because it's not simply increasing y and x off of the mesh position, I need to somehow apply an increase in y and z in my camera space to the mesh…