Still a WIP but the latest update works better than ever. Ready for babylonjs 6!
Currently living at wearevr.com !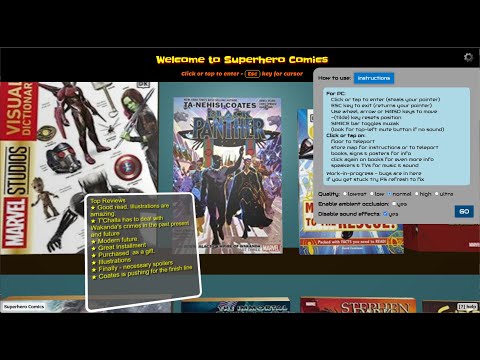 Indeed. It does. Amazing job you did there showing that much and still keeping with good performance even on a small rig. I just experienced one small issue I'd like to share with you. Don't know if it's incidental but I had some issues colliding with the ground. At the start, I feel like a dwarf (or a cat). When I move I also make small jumps, making me think I'm likely inside the ground collider. When clicking on a book on top of a shelf, I get pushed up and from there I can walk for a bit while staying at a position I can estimate as correct above the ground (for a human), but after a few steps it seems like I'm passing through the ground again. I will test later on another rig see if it does the same.
Edit: It happens only when using WASD keys to move.

Hu @mawa ! WASD keys can move you up and down depending on where you aim. You shouldn't be able to move below the floor or over the shelving. Your height gets adjusted up or down if you select a book. All this so you can directly view what you focus on. If you see something different or can move outside the interior, then that's a bug. Thanks for trying !!
YES! I love seeing every update of yours, it has so much joy, fun and style! Makes me want to go inside the screen grab a comic and sit down on a chair to read! (I wouldn't know where to start through as I'm a total noob with superhero comics

)